by Nathan Niedel
Pratt Guys, Jacksonville's premier outdoor design and construction company, is ready to unveil their newest side project, Uncle Tub Tub Rub.
Utilizing just nine all-organic* ingredients including coriander seed, coconut sugar, and orange peel, Uncle Tub Tub Rub is the perfect alternative to seasonings and rubs that are packed with preservatives and salt.
"The idea of Uncle Tub Tub Rub came when I wanted a barbecue rub that has a typical smoky flavor, but with a sweet element that's made with all organic ingredients," says Derek Pratt, founder of Pratt Guys and daily outdoorsman. "Simple, easy, and full of flavor. That's what cooking is all about!"
Pratt Guys collaborated with local gourmet spice manufacturer, FreshJax, to create the unique blend of herbs. Derek Pratt (aptly nicknamed "Uncle Tub Tub") knew that this was a winning combination from the very start.
"We really wanted something to carry in our showroom that would highlight our passion for food," says Jason Pratt, co-owner of Pratt Guys. "Since Derek [Pratt] has a hobby of making his own rub mixes at home we decided to create a spice that brings together his love of grilling, entertaining, and family."
Designed by local illustrator and Pratt Guys lead product designer Jack Spellman, the goal was for the bottle to appear simple, bold, and friendly.
"I couldn't imagine a better person to represent this awesome product coming out of the Bold City of Jacksonville," says Spellman. "Never having designed a barbecue rub label, it was a fun process from beginning to end."
Jason McDonald, owner of FreshJax, agrees. "Selecting the perfect mix of ingredients from our inventory of over 70 ingredients at our factory is a fun and involved process. We love to handcraft unique flavors that we know our customers will enjoy time and time again." When asked what his favorite ingredient is? "Smoked paprika. The smell takes me to my happy place and it adds great flavor to just about anything."
So whether you're cooking the main course for 20, or just bringing a light veggie side dish to the party, this uncomplicated mix brings smoky, barbecue-esque flavors out that will complement any meal. Pick up your bottle at PrattGuys.com/TubTubRub today to experience this versatile rub that won't have you reaching for anything else in your spice rack.
*The organic process takes 5 years for the soil at the farm to rid itself of any pesticides and chemical fertilizers. After 5 years, the farmer still uses no chemicals and then the crops are eligible to be certified organic and inspected by a 3rd party auditor. FreshJax spices are made from only certified organic ingredients, which means that not only are there no added chemicals in their blends, but even the farms are not using any chemicals to grow the herbs. The only non-organic ingredient is sea salt, which is not available in a certified organic option.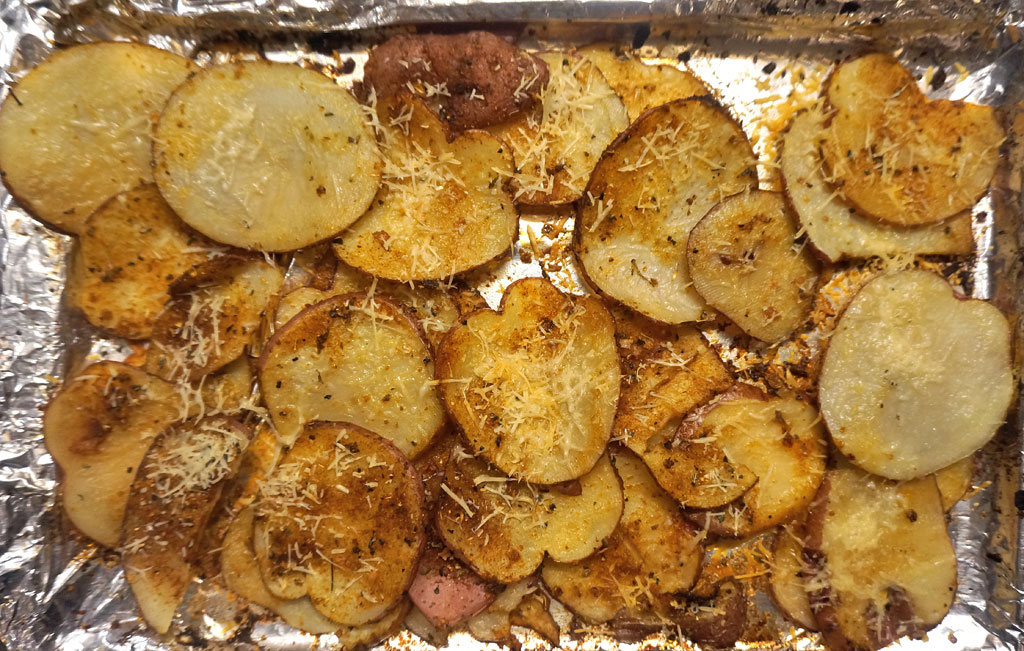 Ingredients:
1 lb. Red Potatoes, thinly sliced
Extra Virgin Olive Oil
Uncle Tub Tub Rub
Parmesan Cheese, shredded
Prep:
Place all sliced potatoes in a bowl of cold water for 30 minutes to absorb excess starch.
Preheat oven to 400 degrees.
Remove slices from water, pat dry.
Lightly toss potato slices in olive oil.
Sprinkle Uncle Tub Tub Rub on potatoes, toss.
Place potato slices on baking sheet. Try not to overcrowd the sheet. If needed, bake in two batches.
Bake:
Bake for 20 minutes.
Turn, bake for another 15 or until brown.
Remove from oven, top with parmesan cheese.
Set oven to broil, Return to oven for 5-8 minutes, until crispy and cheese has browned.